Springboard
About the project
In 2021, our Springboard bursaries gave ten artists the opportunity to emerge from a time of grief and uncertainty to explore their own creative practice. Could they imagine something better for our industry and their communities?
We asked our first cohort on Springboaders to tell us more about themselves and their plans. Find out more below.

Steph Back
Using creative practice to develop creative workshops that educate and inform on Deaf awareness and access within the theatre world…
"I am really passionate about Deaf awareness and access within theatre and I'm really excited to have this opportunity to work on these workshops and deliver them to Welsh freelancers and theatre students in Wales. I believe it is a vital first step, especially for those in universities as they don't seem to be given any access training at all on their courses! I am really looking forward to the conversations that will happen and to leading the workshops themselves!"

Photo by Claire Cousin
Idrissa Camara
Taking an alternative route, journeying in a different direction from dance to music…
"My name is Idrissa and I am from West Africa Guinea Conakry. I am based in Wales, former artistic director of Ballet Nimba. I am an artist, dancer, musician and choreographer. As artistic director of Ballet Nimba, my life used to be in dance. The Corona pandemic was a very difficult time for dance. At home, I inspired myself through playing my Bolon. The Bolon is an African-based guitar. Eventually through that, I started to write my own music and I realised I can sing too. National Theatre Wales Springboard Bursary has given me the opportunity to develop my career into a different platform. I have decided to do fusion music through Bolon with Welsh artists and other African musicians."
Photo by Yanas Media
Sara Hartel
Making the audience active players in a story; research and development of a community-led piece of Game Theatre…
"I'm a non-binary theatre maker based in Barry. After training as an actor, I quickly found my way into directing.
I'm very passionate about inclusivity and work closely with Hijinx Theatre. I was assistant director for their production of 'The Flop' and am movement tutor for their Drama Foundation.
In my own practice, I'm particularly interested in Game Theatre where audience members are active players and their actions have consequences for the story's outcome. It makes the audience responsible for what happens on stage.
With the Springboard Bursary I'm running an R&D into a community led piece of Game Theatre."

Photo by Kim Patridge / Broken Doll Images
Sam Hickman
Singing harpist developing the Queer cabaret scene in Cardiff…
Sam has been living in Cardiff for ten years, working professionally as a musician for six years. She started off as a classical mezzo soprano before moving to jazz and musical theatre. In 2018 she wrote an album and performed an album concert as a one woman show which then rolled into more theatrical and comedic work.
Hanan Issa
Mixing myth, history and language and curating a sense of curiosity and wonder…
"I'm a writer and artist from Wales. I was born and brought up in Penarth and Cardiff.
My work is primarily text-based including poetry, fiction, essays and scripts but I also love playing with different visual expressions.
A big part of my practice is collaboration and I've worked with artists from different sectors including dance and animation.
I'm interested in making connections from the point of convergence taking inspiration from my mixed race heritage.
I like to mix myth, history and language and at its heart my practice is about curating a sense of curiosity and wonder."
Jeremy Linnell
Developing a digital theatre practice to explore mental health, love and isolation through an anarchic grungy form of clowning…
"I'm a neurodiverse theatre maker based in Cardiff. My artistic practice is heavily influenced by bouffon clowning, an anarchic and grungy form that mocks social ills. For my project on Springboard I'm redeveloping my show Dealbreaker for digital platforms. Dealbreaker is an autobiographical lie that looks at mental illness, love and isolation.
I've become interested in digital theatre during the pandemic and love what it does for both creativity and accessibility. Talking about mental health is hard so I'm hoping a silly, fast paced comedy about it might make things a little easier."

Photo by Mission Photographic / Mei Lewis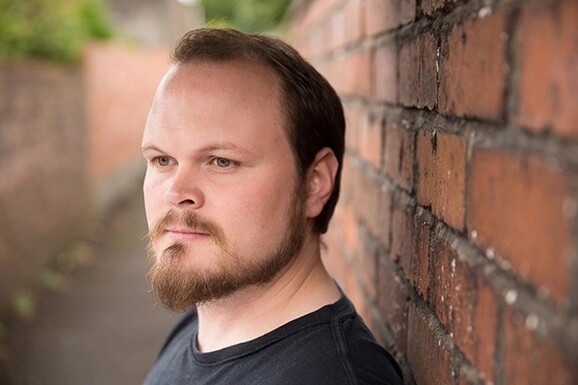 Kel Matsena
Exploring Welsh myth to deepen practice as a writer and theatre maker…
"Hello my name is Kel. I am a Zimbabwean born and Welsh raised Artist. I feel blessed to be working with NTW on creating my play 'The Lake' inspired by a Welsh Myth. As an artist it can be very difficult to find the time to create the work that makes your heart beat whilst also dealing with financial commitments. The Springboard bursary will allow me to focus on creating the world of the play and I'll be working with Directors, Playwrights & Dramaturgs to help me along the process. This in turn will develop my artistic practice as a writer and theatre maker."

Photo by @moligophotography
Durre Shahwar
Writing, craft-shaping, facilitating creative conversations with women of colour and amplifying marginalised voices…
Durre is a writer, PhD Candidate and co-founder of Where I'm Coming From, a community open mic collective for underrepresented writers in Wales. Her work can be found in various publications, notably: Know Your Place: Essays on the Working Class (Dead Ink Books), We Shall Fight Until We Win (404 Ink), Homes For Heroes 100 (Bristol Festival of Ideas). Durre has been part of the Hay Festival Writers at Work and BBC Writersroom Welsh Voices. Durre is currently doing a PhD in Creative Writing at Cardiff University while working towards her first book of autofiction.

Photo by Jake Rowles
Chris Tally Evans
Platforming disabled creatives voices and talent and opening up greater representation of disabled artists in the arts through creative collaboration…
"I'm a disabled artivist, forced to diversify by the reality of working in the arts. I have toured and had work shown all over the world, won a Major Creative Wales Award, but I'm still mostly shut out by the mainstream.
My project, The PIP Collective, is a group of talented disabled creatives working with mainstream arts orgs to help them put right a historic wrong. I hope that through positive collaboration they'll finally realise just what they're missing out on and let us in properly."
Photo by Steve Groves
Anushiye Yarnell
Developing intergenerational participatory practice with a focus on collaboration with children of her community, channelling their creative voices and identities…
"I am an interdisciplinary artist, curator and choreographer from Cardiff. My work channels experiences of 'otherness' and 'outsiderness'. With the Springboard Bursary I will be sowing seeds for a new project entitled 'Syllabus of Darkness', bringing different strands of practice-habitat together into an enquiry of darkness as a material, a medium and a metaphor.
I wish to fuse and extend my personal movement/research enquiry into intergenerational participatory practices, focusing on collaborations with children. I would like my practice to be embedded within dynamic equilibriums of my community which include and support the creative voices and presences of others."